Click Above for Albany, New York Forecast
ALBANY, New York
27th ANNUAL YRE
10/6km walk Event 108551 (YR 18/248)
AVA Special Programs
Amphitheaters
Bridges - Spanning the USA
Make a Wish - Water Fountains
Points of Reference
Ports of Call
State Capital
State Street Sashay
Take a Walk in a City Park
Vice Presidental Walks
Walk the USA Street by Street
Walking the Path of Inventions
Jan 2 - Dec 31, 2018

Empire Plaza

World War II Memorial
---
Welcome To Albany, New York and the state capital walks. These events are sanctioned by the American Volkssport Association (AVA) a member of the International Federation of Popular Sports (IVV). Participants are eligible for credit toward IVV Achievement Awards.
Course Description: The 6/10Km trail is rated 2A and follows streets and sidewalks through the Captial City of New York, passing many Historical Sites,
The Empire State Plaza & the Capitol Building. - suitable for wheelchairs and baby strollers. Some assistance may be required.

Starting Point: Albany County Convention and Visitors Bureau,
25 Quackenbush Square, (corner of Clinton and Broadway)
Albany, NY 12207,
(518) 434-5132. (A/V shows, Planetarium, Exhibits, Gift Shop).
Hours: The walk may be done during daylight hours only. Visitor Center Hours: Mon-Fri, 9-4; Sat. 10-3 Sun; 11-3. Closed on major holidays. (New Years Day, Easter, Thanksgiving and Christmas).
Directions:(click here for Driving Directions from your location)

Parking: Pass the Visitors Bureau and take the first right onto Spencer St. Take Spencer St. to the end and follow signs for Visitors Bureau Parking (4-5 spaces under ramp). If no spaces available, turn left into paid parking area: $1 per Hour. Mon-Fri. 8 to 5 (get ticket stamped at Visitors Center): parking is free other hour hours and weekendsOn street parking is also free after 6pm and on weekends.

From North, East and West, take I-90 to I-787. South on I-787 to Clinton Ave. Exit. Right onto Broadway, Right on Spencer St. to the Visitor's Center parking lot .
From South, NY Thruway to exit 23. I-787 North to Downtown Exit marked 9N and 20W. Then follow signs for 9N and Clinton Ave. Turn left on Broadway and follow directions as above.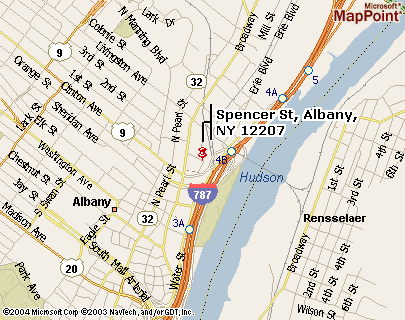 "A" Awards: There are 2 "A" AWARDS : A 1 1/4" PIN depicting the Capitol Building as seen from the Empire State Plaza. There is also a ceramic tile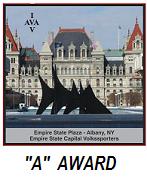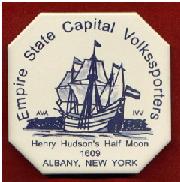 Enamel Pin Ceramic Tile
Registration: Fees are $6.00 for pin "A" award and IVV credit;
$6.00 for Tile/Credit
$4.00 for "B" award and IVV credit,
$3.00 for IVV credit,
$2.00 for non-IVV credit walkers.

Refreshments & Restrooms: Water and restroom facilities are available at the start/finish and along the route.
Refreshments may also be purchased from local businesses along the route.
Walkers are encouraged to carry water during warm weather.
Smoking is prohibited in public buildings and Parks by New York State law. Please observe this ruling.
Acknowledgements: ESCV would like to thank the Albany Urban Cultural Park Visitors Center for the use of their facilities and their help. Without them, this event would not be possible. Check at the desk to learn of the various programs offered.

For Additional Walk Information, please send SASE to:
ESCV -Albany Capital
P.O. Box 5464
Clifton Park, NY 12065-5464
E-Mail: Dave Janiga
(518) 459-2587
Groups of six or more please contact one of the above.
---