Click above for Bennington, Vermont Forecast
AVA Event 109158 #18/Y1545
---
Empire State Capital Volkssporters
21 Annual Seasonal Event
April 1- November 30, 2018
10/5 km Volkswalk (6.2 or 3.1 miles)

---
AVA Special Programs

| | |
| --- | --- |
| Bridges Spanning the USA | Points of Reference |
| US PostOffices | Vice Presidental Walks |
---
---
Welcome To Bennington, Vermont This event is sanctioned by the American Volkssport Association (AVA) a member of the International Federation of Popular Sports (IVV). Participants are eligible for credit toward IVV Achievement Awards.


Walloomsac Inn


Built in 1764, the inn is the oldest in the state. Many great dignitaries including

Thomas Jefferson and James Madison

stayed here


The Bennington Monument

. Many designs were considered for the monument.




One design which called for a slender stone column only 100 ft tall was showcased during the centennial celebration in 1877, which was attended by

President Rutherford B. Hayes

.




The committee finally accepted J. Phillip Rinn's "Big Tower" design with some changes. J. Phillip Rinn modified the original design to include curved edges, and in November 1889 the final stone was set on.




The dedication ceremonies were delayed until 1891, when Bennington welcomed

President Benjamin Harrison

who attended the ceremonies and held a reception at the Walloomsac Inn.





Course Description: The trail is rated 2A because of some hills. Tucked between two mountain ranges (the Taconics on the west and the Green Mountains on the east) Bennington is one of Vermont's oldest and most historic towns. The trail follows city sidewalks & takes you past the Old First Church ground where soldiers from both sides in the Battle of Bennington are buried as well as the poet Robert Frost; the Bennington Battle Monument, the tallest structure in Vermont; through "Pottery Row" the location of the Bennington pottery industry; along the Walloomsac River pathway; past the former Bennington RR Station; and the Bennington County Courthouse. Two 5K routes are also offered, one of which is flat and rated "1A".


Starting Point: Jay's Art Shop & Frame Gallery, 115 South St. (Rte. 7), Bennington, VT (802) 447-2342
Restrooms are available in nearby public buildings at the start and at the Bennington Monument.

Hours: Daylight hours: Mon - Sat. 9:00AM - 5:00PM; Sun. 11:00AM - 5:00PM.
Closed Major Holidays. Call if in doubt.




"A" Award: A Award for Bennington is a 1 1/4 inch pin of the Bennington Battle Monument.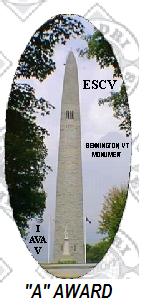 FEES:
"A" Award & Credit is $6.00;
"B" Award & Credit is $5.00.
IVV credit only is $3.00.
Non-IVV credit is $2.00


Directions:(click here to get driving directions from your location)
Please park on City Streets or in the lot behind Jay's Cards & Gifts & the Bennington Town Hall


Bennington is located in southwestern Vermont at the junction of US Route 7 and Vermont Route 9. Appoximately 40 miles northeast of Albany, NY; 125 mi. north of Hartford, CT; 140 mi. northwest of Boston. MA. Jay's is at 113 South St. (Rte. 7). There is public parking in the lot behind Jay's near the police station.


From South:

Take I-87 North (New York State Thruway - from NYC), take the exit for I-787 north and exit I-787 at Route 7 (Troy/Bennington).


From I-90 East (New York State Thruway - from Buffalo)

, take exit for I-87 north and exit I-87 at Route 7 east.


From North:

Take I-87 South (The "Northway" from Saratoga, Glens Falls, Lake Placid, Plattsburg) - take exit for I-87 north and exit I-87 at Route 7 east.Route 7 East becomes VT Route 9 at the New York/Vermont (Bennington) border. Route 9 will take you into Downtown Bennington.


From Southern New England (MA, CT, RI)

Take US route 7, which crosses I-90 (the Mass Pike) in Lee, Massachusetts, continues north into Vermont and crosses VT Route 9 at the main intersection of Downtown Bennington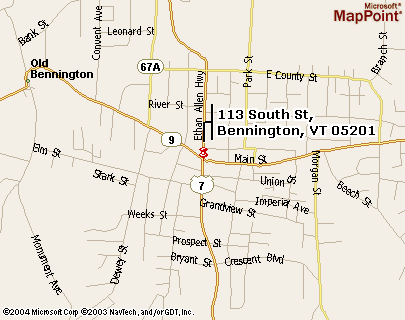 Refreshments & Restrooms: Water and restroom facilities are available at Bennington Town Hall and the Bennington Monument. Snacks and refreshments can be purchased at the many varied restaurants at different sections of the route.
Acknowledgements: ESCV thanks Jay and Joan Zwynenburg, for the use of their facility and for their assistance. We also express our appreciation to the Twin States Volkssport Association for allowing us to sponsor this event.
Click here for more information on Bennington.

Point of Contact:

Amy Gitchell


Phone: (518) 399-6160


Groups of six or more please contact the above.