Empire State Capital Volkssporters
ALBANY/COLONIE CROSSINGS
10/5Km Walk

11th Annual Seasonal Event
April 1 - November 30, 2018
AVA Event #108730 2018/YR0332 10/5K Volkswalk
~~~~~~~~~~~~~~~~~~~~~~~~~~~~~~~~~~~~~~~~~~~~~~~~~~~~~~~~~~~~~~~~~~~~~~~
AVA Special Program Qualifiers

| | |
| --- | --- |
| Boardwalks | Bridges - Spanning the USA |
| Points of Reference | Take a Walk in a City Park |
---
Hours: Cicotti Center is OPEN - Monday-Friday 5:00AM-9:00PM Saturday & Sunday 7:00AM-7:00PM CLOSED MAJOR HOLIDAYS.
Course Description: Trail is rated 1A. Suitable for wheelchairs and strollers. Pets allowed on leash. Trail is in a Colonie town park called "The Crossings", on paved hiking/biking paths. Bathrooms are available at start point and the complex by the playground in park. There are restaurants, shopping, and hotels available on Wolf Road.
Fees:
"A" Award & IVV Credit $6.00
IVV Credit Only $3.00
Non-IVV Credit $2.00


Award: "A" Award is a 1 ¼ inch pin depicting the Entrance to the Crossings Park
Directions: (Click here for Driving Directions from your location)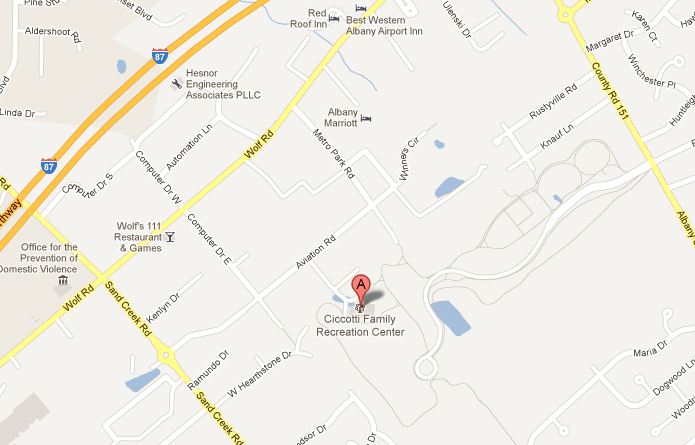 Directions:

South: I-87 (Northway) to Wolf Rd exit. Straight through light onto Wolf Rd.
Pass several traffic lights, including intersection with Sand Creek Rd.
At Metro Park Dr light (Macaroni Grill on right), turn right. Take Metro Park Dr to end.
* From North: I-87 (Northway) to exit 4 (Albany Int'l Airport).
At end of ramp, turn left. At next light, Albany Shaker Rd, turn left.
Merge far right & at next light, Wolf Rd., turn right At Metro Park Dr light, turn left.*

*Follow Metro Park Dr to end. BEFORE entering Crossings Park, take right onto Aviation Rd.
Entrance to Rudy A. Ciccotti Family Recreation Center on left.

POC
Beth Snyder
PHONE: (518) 505-3525
Special Thank You to the Cicotti Center for hosting our walk.

---