Empire State Capital Volkssporters
JOHNSTOWN, NEW YORK
14th Annual Seasonal Event
April 1 - November 30, 2018

AVA Event #108499
NE18/1156
AVA Special Programs

Animal Safari

Bridges - Spanning the USA

Food for Thought

Ice Cream Parlors
Make a Wish at a Water Fountain

Points of Reference

State Street Sashay

US Post Offices

Vice Presidential Walks

---
Welcome To Johnstown, New York


Historically, it has been well known for the glove and leather industries. The modern glove industry began in the early 1800's with the establishment in Johnstown of what was purported to have been the first glove making plant in the United States. Johnstown, is the County Seat and is located in the Mohawk Valley of Northeastern New York State, near the foothills of the Adirondack Mountains. The Battle of Johnstown was fought six days after the British surrender in Yorktown, Virginia, and the war had officially ended - it happened on October 25, 1781.



Starting Point:
Johnstown City Hall - (You might have to ask the policeman on duty where the box is)
41 E Main St.
Johnstown, NY 12095
(518) 736-4011

Course Description:

Daily, Dawn to Dusk. 2A rating. This 10km trail follows a route past the home of Sir William Johnson, birthplace of Elizabeth Cady Stanton (author), and other revolutionary war and historical sights of the area where the last battle of the Revolutionary War was fought. George Washington inspected the county jail on his travels.

The oldest courthouse in continuous use is the Fulton County Courthouse on Williams St. This walk also passes the

Johnstown

Cemetery

.



Hours: Daylight hours: Dawn to Dusk.

Directions: (Click here for directions from your location)

Johnstown is located about 40 miles to the north and west of Albany, NY.
From Albany, the South or the West: Take on I-90 (NYThruway) to Exit 28 (Fonda/Fultonville). turn Left (Riverside Dr.), then Right onto Rt. 30 and cross the Mohawk River. Turn left on Main (RT-30A) and go North for 3.8 miles to Johnstown. At the intersection with Rt 29 West, turn left You are on East Main Street. After you go through the second traffic light, City Hall will be on your right, about halfway down the block.
From the North: Take Exit 15 I-87 (Adirondack Northway), Turn Right onto Rt. 29 (Washington St.) and travel West for approx. 32 miles.At the Intersection with Rt 30A south, turn left At the next traffic light (still RT 29W), turn right. This is East Main Street. After you go through the second traffic light, City Hall will be on your right, about halfway down the block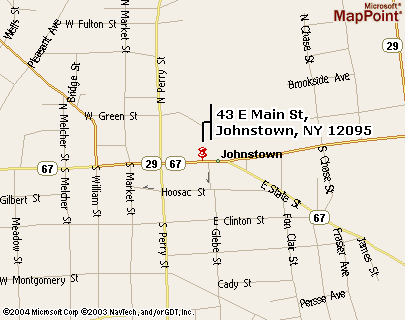 ---
"A" award

is Patch of the Fulton County Court House.

Fees:
A-Award (Patch) with Credit $6.00
B Award with Credit $4.00
IVV Credit Walkers- $3.00
Non-Credit Walkers $2.00


Restrooms & Water:
Water and restroom facilities are available at the start/finish Walkers are encouraged to carry water during warm weather.


Refreshments:
There are some eating establishments along Main Street in Johnstown and fast food restaurants on the Arterial (Rt. 30A)


SPECIAL THANKS Johnstown City Hall for the use of their facilities for this event.




---