Click above for Saratoga Springs, New York Forecast
---
Empire State Capital Volkssporters

Presents
28th Year-Round Event
11/6km Volkswalk

AVA Event 108638 #18/169
Jan 1- Dec 31, 2018
Special Programs

| | |
| --- | --- |
| Food for Thought | Ice Cream Parlors |
| Make a Wish - Water Fountains | Points of Reference |
| State Street Sashay | Take a Walk in a City Park |
| Treasure Hunt | Underground Railroad |
| US Post Offices | Walk the USA - Street by Street |
| Walking the Path of Invention | |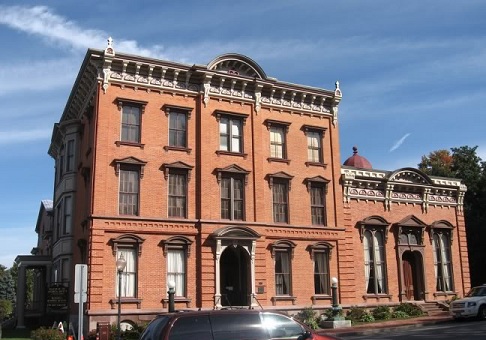 Canfield Casino - Congress Park

---
Starting Point:
Four Seasons Natural Foods -


120 Henry St.
Saratoga Springs, NY 12866


518-584-4670




Hours: Daily 8:00AM-8:00PM; (closed on New Year's Day)
Call ahead to verify hours.


Course Description: The trail is rated 1A and follows streets and sidewalks of the city of Historic Saratoga Springs,
passing many Victorian homes & shop fronts, past world-famous mineral springs, the 19th-century Canfield Casino & Italian Gardens in the city's park,
Empire State College, past the Race Track, Casino, Skidmore College and the main streets of the city. Suitable for wheelchairs and baby strollers.
Some assistance may be required. Besides the former D&H station on the route is the form site of the The McGregor Railway:
The current home located at the corner of North Broadway and the arterial (on the east side of North Broadway) was actually once the rail station that
transported visitors to the Hotel Balmoral on top of Mt McGregor for weekend dancing & activities.
"Nearly all the young society folk journeyed each week to the Hotel Balmoral via the railway, that looked so dizzily unsafe, but was very safe, to hear a
famous All Girl orchestra which played there in the brilliant season of 1890." - Chronicles of Saratoga

Registration Fees:


From South: I-87 North, Exit 13. Rt 9 N into middle of Saratoga Springs intersection of Broadway, Rt 50/US 9 & Lake Ave. (Rt 29). At Lake Ave,
Turn right, down hill to 3rd st on left- Henry St; turn left Four Seasons on right. Parking here reserved for customers only.
Please park on adjacent city St. or parking lot on High Rock Ave., one short block away.
From North: I-87 South, Exit 15. Bear right onto Rt 50/US 9 South. Go 1.5 mi bear left onto Broadway. Follow signs to Rt 50/US 9.
At intersection of Broadway & Lake Ave., Rt 29, turn left onto Lake Ave. down hill to Henry St - 3rd street on left just past Hampton Inn.
Turn left here to Four Seasons on right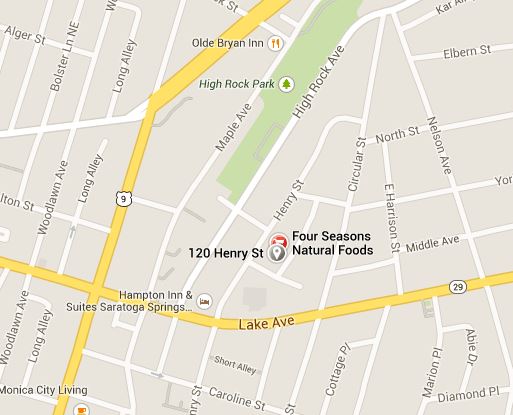 Refreshments & Restrooms: are available at the start/finish. Water and restroom facilities can be found along the route.
Refreshments may also be purchased from local businesses along the route. Walkers are encouraged to carry water during warm weather.
Smoking is prohibited in public buildings and Parks by New York State law. Please observe this ruling.

For Additional Information, please call or E-Mail:

Laverne Stiles (518) 223-3750
Groups of six or more please contact the above.

{Return to YRE MENU}