Empire State Capital Volkssporters
in conjunction with the Hilton Garden Inn
18th Year Round Event
10/5km walk
2.5k/3km SNOWSHOE

SARATOGA SPA PARK
January 1 - December 31, 2018

AVA Event 108706

#18/1027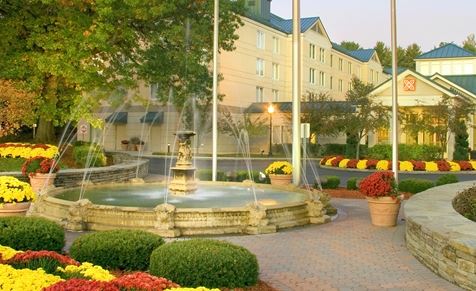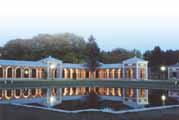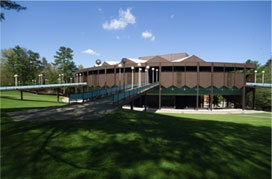 Fountain in Front of Hilton Garden Hotel Reflecting Pool Saratoga State Park Saratoga Performing Arts Center

AVA Special Programs Qualifiers

| | |
| --- | --- |
| Amphitheatres | Make a Wish - Water Fountains |
| Points of Reference | Treasure Hunt |
---
Saratoga Spa State Park


With its mineral baths, effervescent waters, performing arts center, the historic Gideon Putnam Hotel and outstanding golf facilities, Saratoga Spa State park is one of New York's finest.
This beautiful

State Park

, open year-round, features mineral water baths in restored bath houses, natural mineral springs and more geysers than anywhere east of the Mississippi, interspersed with lush pine forests and classical architecture designated as National Historic Landmarks. There are picnic pavilions, two swimming pools, two golf courses, the luxurious Gideon Putnam Hotel and Convention Center, three restaurants, the Saratoga Performing Arts Center, the National Museum of Dance, and much, much more.



---
Starting Point: Hilton Garden Inn, 125 South Broadway (Rte 9), Saratoga

Springs, New York




(518) 587-1500 Ask desk clerk for "walk box."




Hours: Dawn to dusk, daily . Snowshoers will drive to their Start Point in the Park after signing in at the Hotel.
The walk boxes for both these events are the same : the Hilton Garden Inn

SHOESHOE: From December through March a snowshoe trail is available, provided there is adequate snow cover. Loops of 2.5 & 3Km are available.
The two loops together with a connector trail total 6km.


If you'd like to try snowshoeing but don't have equipment, the Saratoga Park has snowshoes for hire for a half day. (Bring your own poles.) They are available in the park Administration Building. The park route is particularly suited for beginners.




Course Description:

Rated 2, the mostly gentle terrain of the

Spa State Park offers easy walking but includes a few dirt paths and gradual hills. The National Museum of Dance, Lincoln Bath House, the Historic Gideon Putnam Hotel, classical architecture of the Hall of Springs with its arched promenades, The Franklin Baths, mineral springs and "the only spouting geyser found east of the Mississippi," along with the SPAC (Summer home of the NYC Ballet & Philadelphia Orchestra), and the Saratoga Automobile Museum (all interspersed with tall pine) will be what awaits you in this glorious setting.

Complete the trail through the beautiful "Avenue of the Pines."

The "B" award is a light blue bar for the Saratoga Spa Park to be attached to the Header (ESCV club emblem) which can be purchased separately

Registration:


Fees are :


$3.00 for the Header, purchased separately:


$4.00 for "B" award and IVV Credit
$3.00 for IVV Credit only
$2.00 for non-IVV walkers.

Directions (click here for driving directions from your location)
From Adirondack Northway (Rte 87), exit 13N to Route 9, north 3.4 miles to the Hilton Garden Inn on the left.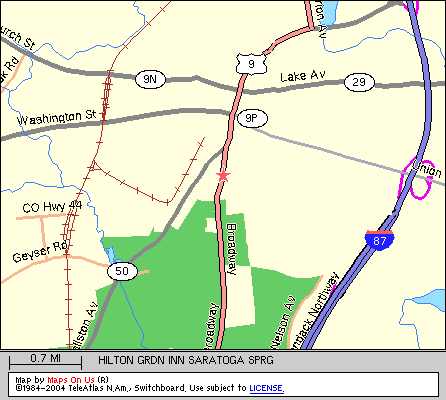 POC:
Carol Sorensen - (518)-223-0882
Acknowledgements: ESCV would like to thank the staff at the Hilton Garden Inn for their help and the use of their facility.
The inn offers a breakfast buffet for purchase to the gemeral public.
[ESCV Year Round/Seasonal Page]