Start Point:
Best Western Plus-
Franklin Square Inn & Suites
(518) 274-8800
One Fourth Street,
Troy, NY 12180
Hours
: Daily, dawn to dusk
Course:
This trail is rated
1A
follows city streets, passing business district , antique district, many historical homes, Russell Sage College,
Monuments, and shoreline of Hudson River, crosses the Green Island Bridge (former RR Bridge), Erie Canal Natíl Heritage.
Award:
The
"B" Award
is a Hot Pink City bar of Troy, attachable to the header. There is a header (which is our club emblem), sold separately, to attach the various city bars of our year rounds and seaonsals...
Various "B" awards are also available.
Registration
Fees:
$4.00 for "B" award and IVV credit
$3.00 for IVV credit
$2.00 for all non-IVV credit walkers.
$3.00 for the Header,
purchased separately
Refreshments & Restrooms: Water and restroom facilities are available at the start/finish.. Walkers are encouraged to carry water during warm weather.
Smoking is prohibited in Public buildings and Parks by New York State law. Please observe this ruling.
Acknowledgements:
ESCV would like to thank the Franklin Square Inn and Suites for the use of their facilities and their help. Without them, this event would not be possible.
Directions to the BEST WESTERN - Franklin Square Inn & Suites

(click here for directions from your location)
From the North:
Take I-87 South to (Exit 8) Alt. 7 East. Stay right over the Collar City Bridge. Take ramp (Troy-Downtown). At end of ramp turn right onto Hutton . Go 2 blocks and turn left onto River Street. Go to traffic light . Continue straight through the light and bearing right .The Franklin Square Inn & Suites is on the left. Continue south one block, turn left ,go 1 block , turn left on Fourth Street to entrance to the inn.
From the South :
Take NY State Thruway to exit 23. Take I-787 North to exit 8(23rd Street, Watervliet, Green Island). Turn right at the traffic light and take next right over Bridge. At traffic light turn right onto River Street. Franklin Square Inn is on the left. Continue 1 block to Fulton Street, turn left. Go 1 block to Fourth Street. Turn left and go 1 block to entrance to Inn.
From the West:
Take I- 90 East to 787 north. (Troy). Follow directions from the South.
From the East:
Take I- 90 West to 787 north (Troy) . Follow directions from South.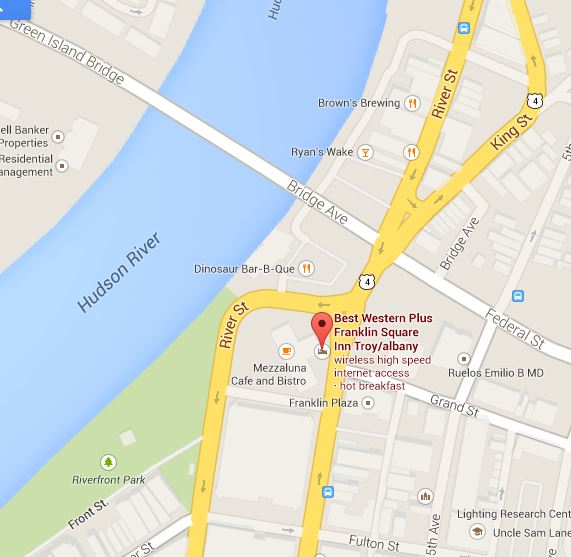 Groups of six or more Please contact the above. Thank You
---
Brief History of Troy
The site of the city was a part of the Van Rensselaer grant of 1629. Dirck Van der Heyden was one of the first settlers. In 1707, he purchased a farm of 65 acres (26 hectares) which in 1787 was laid out as a village.

The name Troy (after the legendary city of Troy, made famous in Homer's Iliad) was adopted in 1789, and the region was formed into the "Town of Troy" in 1791 from part of the Rensselaerwyck Manor. Troy became a village in 1801 and was chartered as a city in 1816.

Samuel Wilson, a Troy butcher and meatpacker during the time of the War of 1812, is believed by many to have been the inspiration for the personification of the United States known as Uncle Sam.

It has been three times nearly destroyed by fire. In 1892, there were election riots there during which Robert Ross was murdered. One of his slayers, "Bat" Shea, was executed in 1896.

Through much of the 19th and into the early 20th century, Troy was not only one of the most prosperous cities in New York State, but also one of the most prosperous cities in the entire country, overshadowing nearby Albany, the state capital. It was one of the centers of the American iron industry, as well as of the "collar and cuff" industry, the latter exemplified by Cluett, Peabody & Company. Cluett's "Arrow shirts" are still worn by men across the country, although Cluett's itself is no more. People came from far and wide to shop at Frear's Department Store, which was one of the largest in the state.

Some other notable historical events in Troy
* 1823: First known appearance of the world-famous Holiday poem "A Visit from St. Nicholas" (also known as "The Night Before Christmas" or "Twas the Night Before Christmas") is made in the now-defunct newspaper The Troy Sentinel on December 23. The poem was published anonymously, but its author is now regarded by most as having been [Henry Livingston, Jr.].
* 1827: Hannah Lord Montague invents the detachable collar in Troy.
* 1864: The nation's first female Labor Union, the Collar Laundry Union, founded in Troy by Kate Mullany.
* 1933: Sanford Cluett invents sanforization, a process which shrinks cotton fabrics thoroughly and permanently, in Troy.
---