2017 ESCV One-Day Traditional Events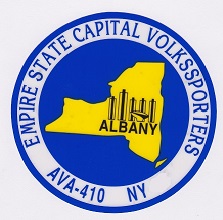 Brochures & Registration Forms


Please Use the Google Calendar for Driving Directions from your location

Brochure
(

CLICK highlighted below

)

Walk Description

Registration Forms

Saturday
April 22

Amsterdam, NY
Rated 2A
Walk on city sidewalks and part of the
Erie Canal Trailway bike path.


none for this event

Saturday
May 20
Cambridge NY
Rated 1A -
Both the 5km and 10km routes walks along
on sidewalks and village streets

none for this event
Saturday
June 24
Thacher Park
We celebrate our 30th Anniversary with a walk and picnic

Registration Form
for PICNIC

Saturday
October 7

Moreau State Park
Fernwood Pavilion

Octoberfest
Registration Now Open--->


Registration
Form


Tuesday
October 17


Schuylerville, NY


October 17, 1777, Burgoyne surrendered, returned to England in disgrace and was never given another command. These vital victories for the colonists at Saratoga finally persuaded the French to provide the Americans with military aid, which was one of the single biggest turning points in the America Revolution
none for this event
Sunday
November 5
Albany, NY
Annual Pizza Party/Walk
19th year in which we gather to acknowledge the walking accomplishments of ESCVers.
Registration Form
Pizza Party

Saturday
December 2

Annual Holiday Walk/Party


This will be the 23rd year for this event in which


we wish each other a Joyous Holiday Season.
Stockade Inn


Registration Form
HolidayLuncheon
available in Nov.

Last Update: September 29 2017